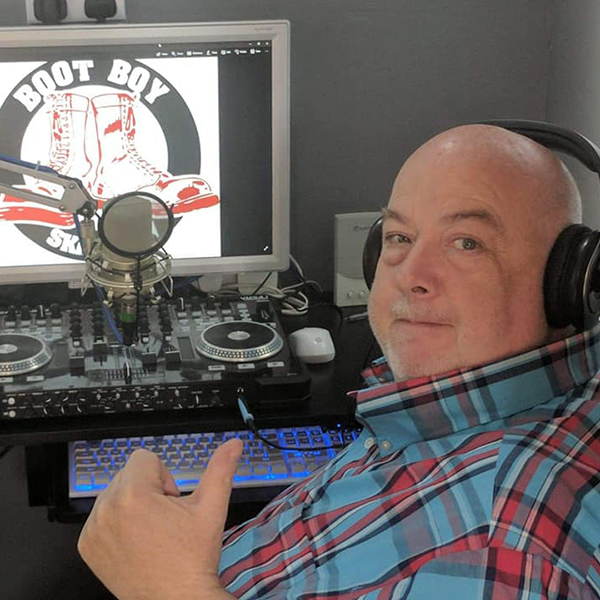 GEOFF LONGBAR
Based: Lowestoft, England
Boot Boy Ska Show
Geoff is the founder of Boot Boy Radio and a lifelong supporter of the offbeat genres. His passion is the driving force behind the station. What pleases Geoff more than anything is the community which stands firm and loyal.
Over the past few years, the audience has grown and the platform expanded. With regularly monthly listeners from 165 countries, Geoff has brought together a host of knowledgeable presenters that sit in his shadow and will support him like he supports them.
I have been a skinhead since I can remember, I love the skinhead scene and the culture has played a huge part in my life. 
I play all Reggae, Ska and 2 Tone, through all the ages. I believe in keeping the music and culture going and by promoting the skinhead genre I believe I am giving back to the community.
I am known as Alan Townson AKA The Creator.
ALAN TOWNSON
Based: England
AKA The Creator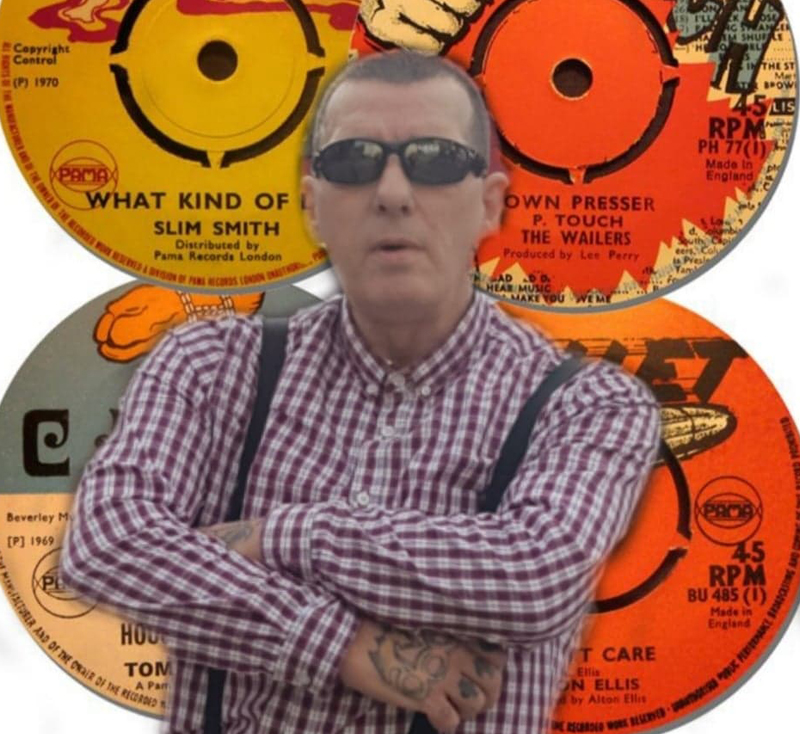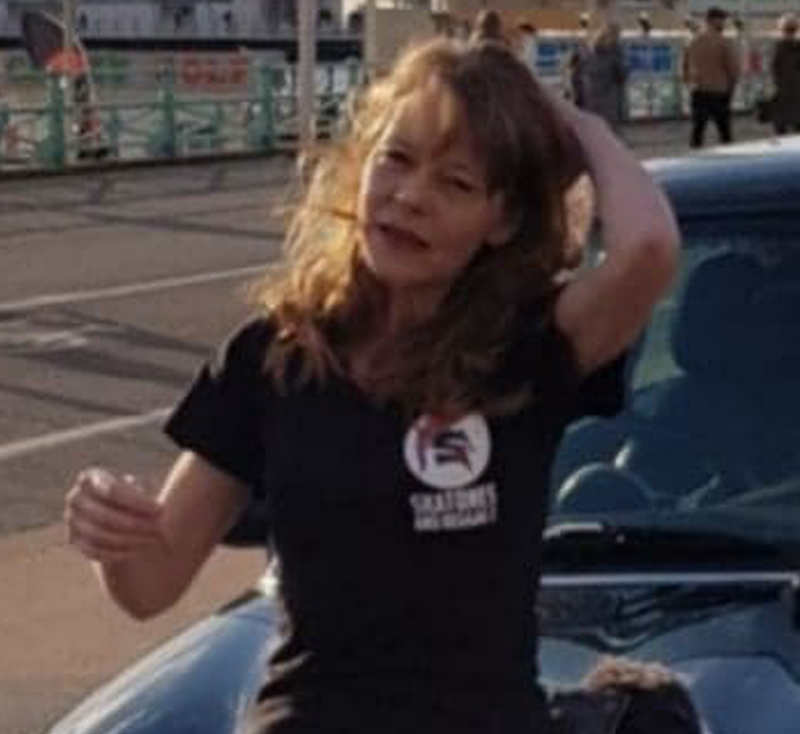 SUE WEST
Based: England
Sue's Sounds
I'm Sue, Presenter of Sue's Sounds, on my shows I choose a different theme each week; all the songs have the theme word in the title and/or within the songs. To bring you a diverse play list all within the Bluebeat, Ska, Reggae & Two Tone genre.
So, join me for a different way of listening to music; see if you can guess some of the songs from the Theme Of The Week.
Catflea Massacre is a rebel amongst a pack of revels. He kicks against society like a jelly rolling up hill.
If he had a choice between a raisin flapjack and a honey flapjack you would see a man rip off his socks, push them into his ears and then retrieve them through his eyeballs before commiting to an answer.
Catflea's only lucid moment is when he's putting his show together. In these precious moments, all you can hear is an offbeat satisfied purring.
CATFLEA MASSACRE
Based: Hell
Catflea Massacre Ska & Reggae Show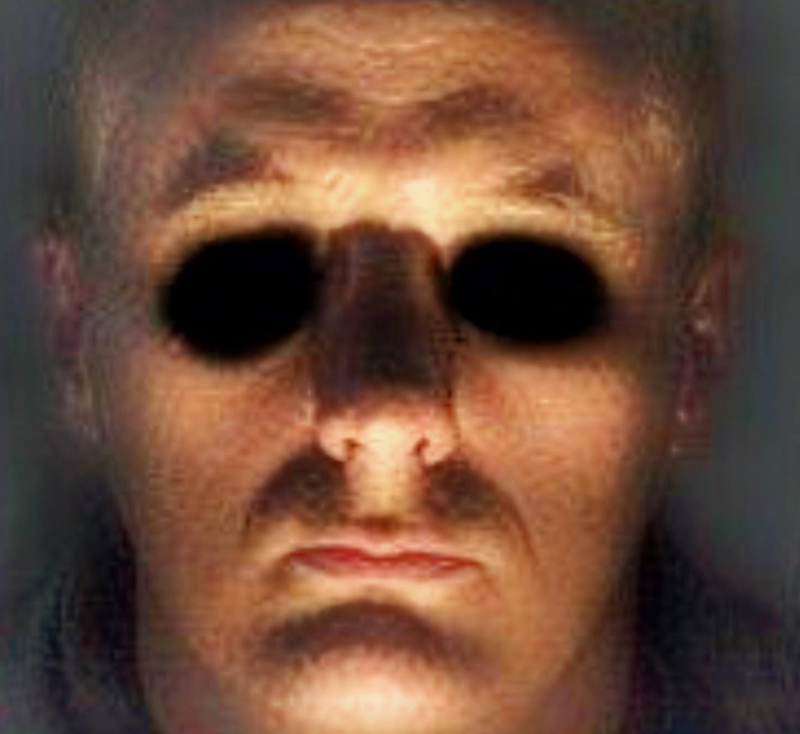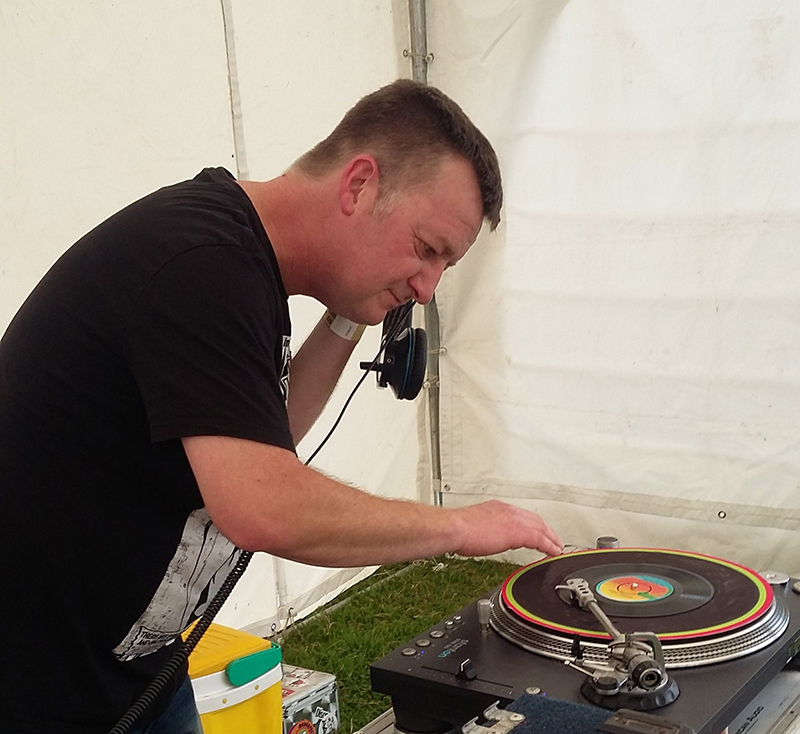 DARREN WORROW
Based: Devizes, England
Occasional Guest DJ
Cartoonist, Author, and through all my creative diversions, I was only ever a window-shopper with music. Love it, live for it; can't hold a note for toffee, can't play an instrument if my life depended on it. DJ is the only way to express my affection for it, 
I shy at nothing, save eggnog and that is why I'm blessed when Boot Boy Radio stupidly gave me a chance, and Ska-ing the West Country is now a, well, thing. Means I can play my favourite tunes, say silly things, and generally mess about; the story of my life.
It's the sort of thing that Daz enjoys doing that made others stand two metres away from him, and that was before the pandemic. Daz decided music was for him after being informed by Crackle from the Rice Krispies box that he looked a little like a cross between Freddie Mercury and Twiggy. 
Daz now presents the Ska Train, he approaches it from the position of Y-Front wearer as he has always felt safer with a quick exit somewhere close.
DAZ KANE
Based: England
Daz Kane's Ska Train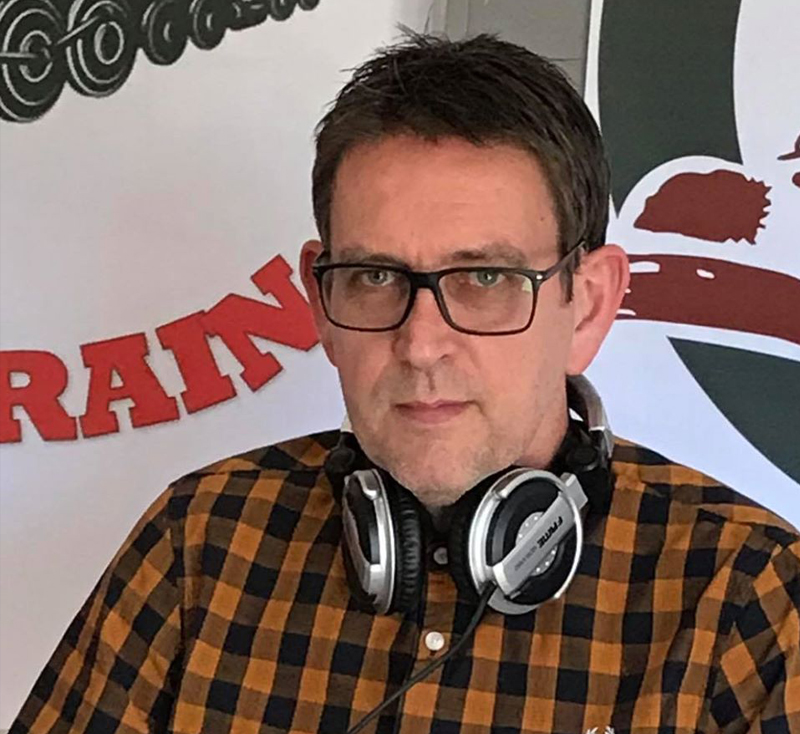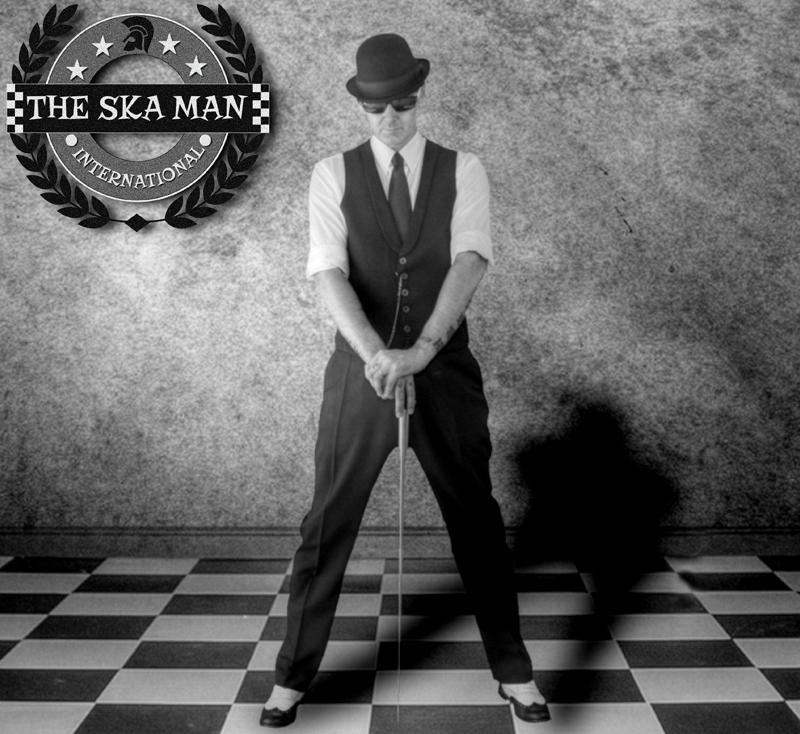 GARETH SEVERN
Based: Cyprus
Occasional Guest DJ
I am the Ska Man International, also known as Gareth Severn. A singer, Presenter, Writer, Director and relative new boy to Boot Boy Radio.
I have a passion for Ska music whether it be on stage performing or on the radio playing my favourite tunes. I will play whatever beat takes me at any given time, old or new and love to take your requests and listen to all your favourites as well.
My name is Maggie Alvarez. Mixed Spanish Caribbean and born in Amsterdam. Music always gave me comfort and happiness in life.
When the COVID virus arrived in our countries I noticed that I wasn't the only one in need of more music. Music is food for the soul. So like many others I started to share my favorite music with other people. Now I'm fortunate to do that on Boot Boy Radio with Maggie's Love Bus!
"It's all about the music
"
MAGGIE ALVAREZ
Based: Amsterdam, Netherlands
Maggies Love Bus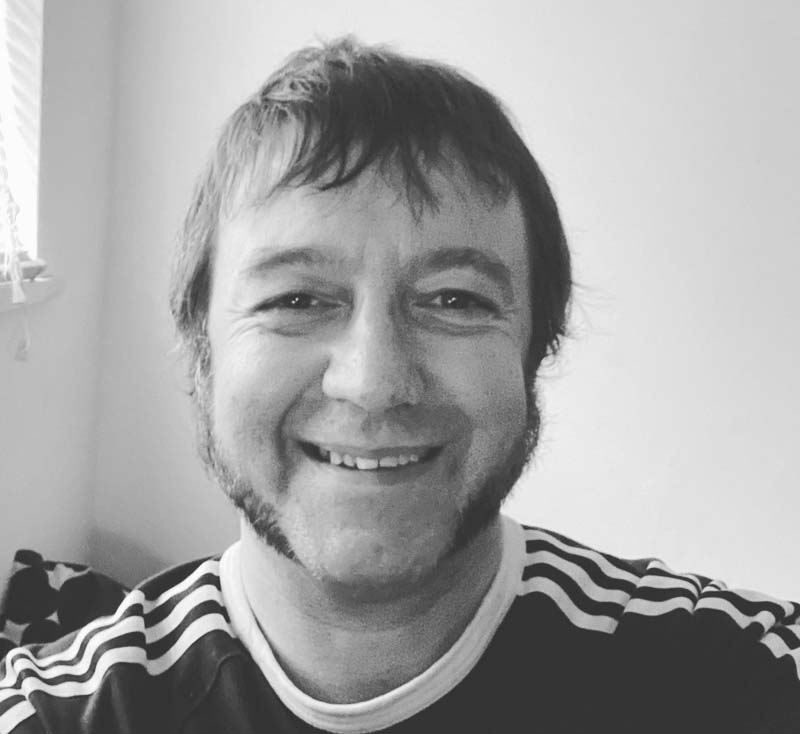 Steve Greensides
Based: Swaffham, UK
Occasional Guest DJ
Picture the scene, a group of spotty 16 year olds in their first club. One spotty boy is watching the DJ spinning Wham/Frankie goes to Hollywood etc. Then up to the decks comes this cool as fuck guy: Mohair Cardigan,Button Down Oxford and this record box. Down fades Wham and off go my mates to the Bar. I stand transfixed as the opening bars of 'This Old Heart of Mine' fills the smoke laden air!
I have now Dj'ed on the Scooter scene for longer than I care to remember and have also played on weekenders and festivals.
Built my first mobile disco set up at 14. Teamed up with a mate who had a whole lot of professional kit when I was 16; played private parties, pubs etc, including a six month residency in a Clapham pub.
Gave it all up and sold all my vinyl by the time I was 22 and married with a kid. Rekindled my love of playing music when asked to get involved with a local FM station. Been presenting a radio show for over five years. Met the wonderful Geoff Longbar online and was asked if I wanted to get involved with Bootboy Radio. Obviously I jumped at the chance to be part of the family!
Alan Cann
Based: Hailsham, East Sussex
Alan Cann Radio Show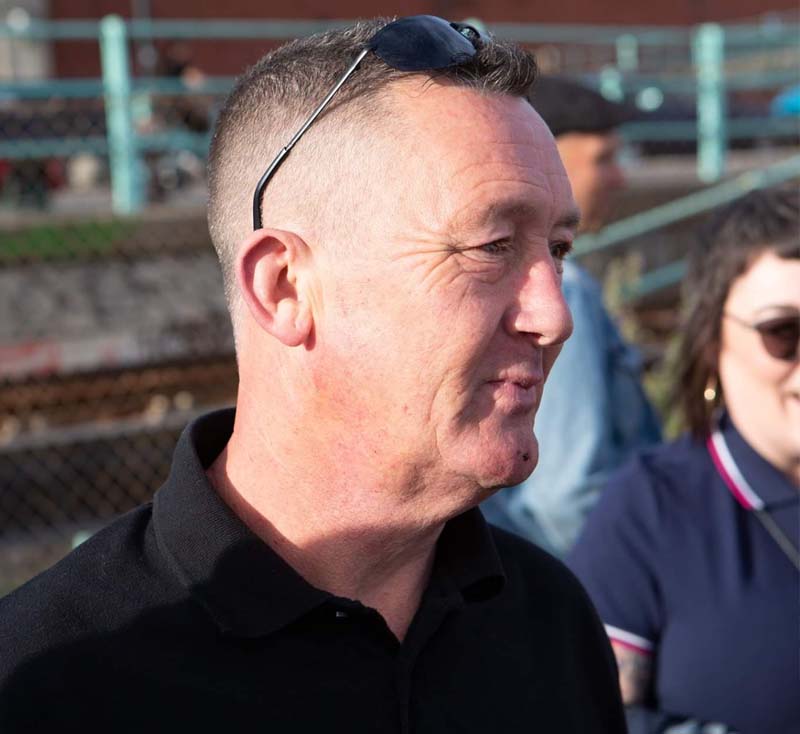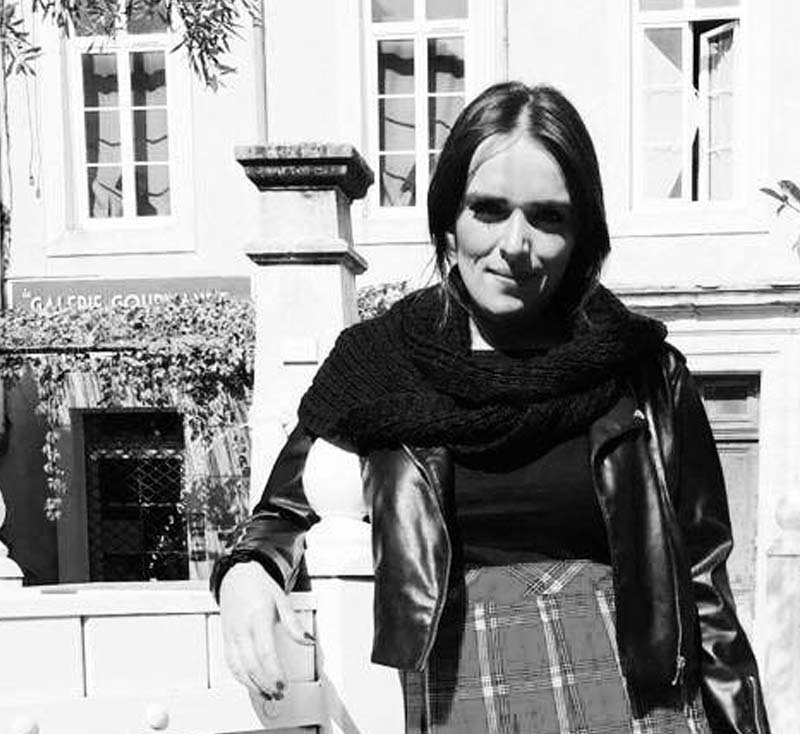 Stella Bastart,
France
The Bastart Show
I'm Stella presenter of THE BASTART SHOW. Im a Colombian Artist living in France, Film Director & Producer specialized in Music Videos, Melomaniac and Badass Mom. Music is my way to communicate to the world.
I play PUNK on Wednesday's and SKA, DUB & REGGAE on Saturday. Come and check it out
Phil Duckworth a veteran podcaster, runs point, with co-host Rick Cornejo lending his taste and unique perspective. Phil hails from Canada originally, and has been a fan of the genre for decades. He can benchpress a small bear, useful in Pennsylvania.
Phil Duckworth
Pennsylvania, US
Rocksteady Tonight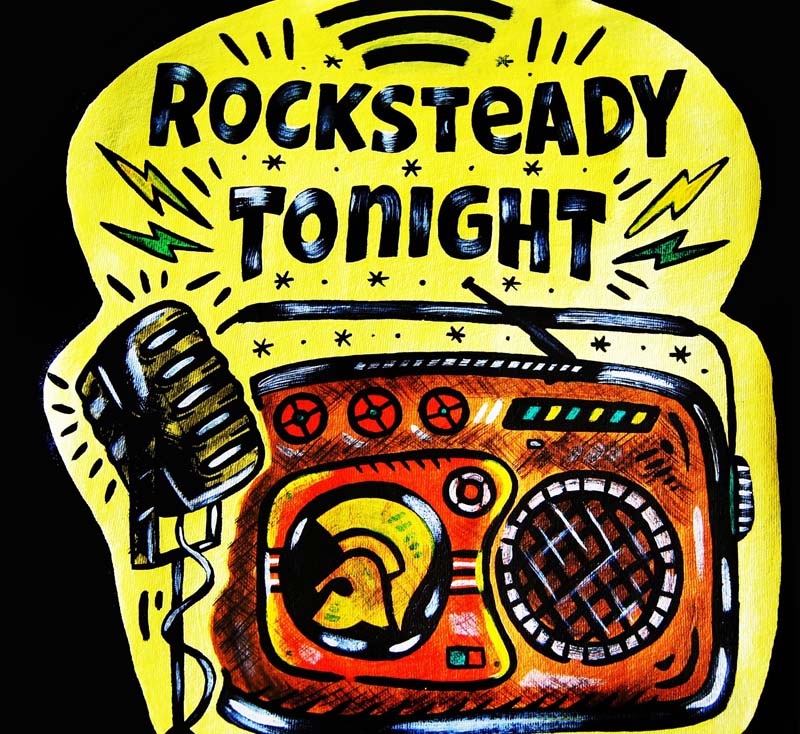 David Howard
Birmingham, UK
Haggis DJ: The Night Doctor
I am a record collector and reggae selector who has playing out since the mid seventies. I have had the honour, and pleasure, to play at Skamouth, Skabour and Skalloween amongst other venues.
My weekend shows on Boot Boy Radio centre around Jamaican Ska, Rocksteady, Boss Reggae and 2Tone with some other genres from the scene thrown into the mix for good measure. My Tuesday evening show is a pure vinyl session with a different theme every week.
Started DJing in '99 and promoting the same year. Soon rose up the ranks and within two years I had residencies at dayers, nighters and weekenders.
Collecting got out of hand, and had have to slow down. Radio work soon followed and so did DJ appearances all over the UK and abroad
Mick Andrew Reynolds
Dudley, UK
DJ Moldie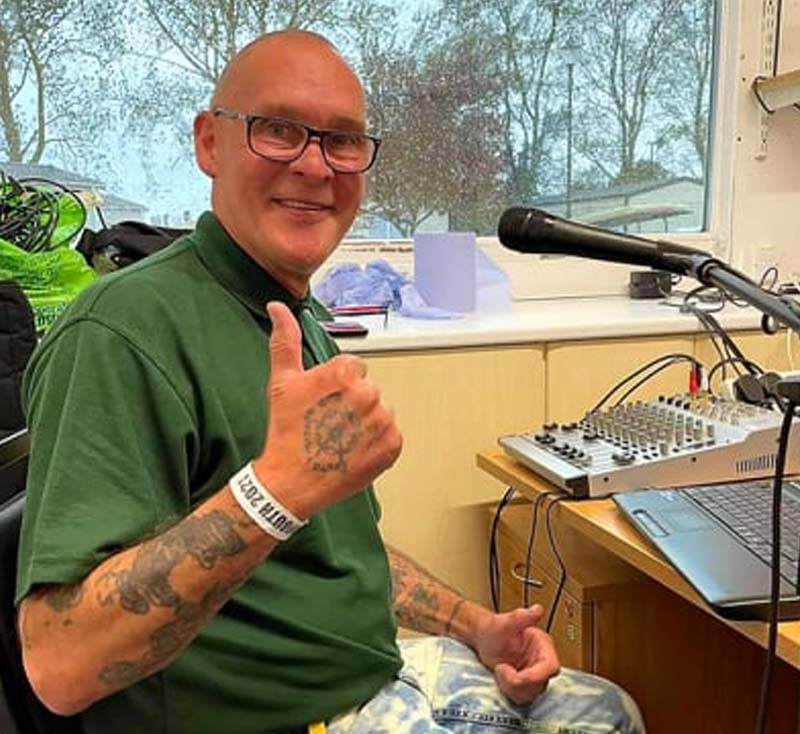 Bri Neale
Doncaster, UK
Daddy Bri
Hi I'm Bri Neale, AKA Daddy Bri from Doncaster, a DJ at Boot Boy Radio. I have been listening to ska, reggae & trojan music since becoming a skinhead at 17 years of age. The passion has continued until this present day.
My other passion is scooters and I've been riding them since then… and still am.
Hello, my name is Michelle Neale and I'm proud be from Doncaster, South Yorkshire. I am the wife of Daddy Bri who I met many, many years ago. He was the one who got me into this genre of great music.
I joined Boot Boy Radio to promote the music. The show is called Saturday With The Stars as I choose a different artist or band and play a selection of their musical catalogue.
Michelle Neale
Doncaster, UK
Saturday With The Stars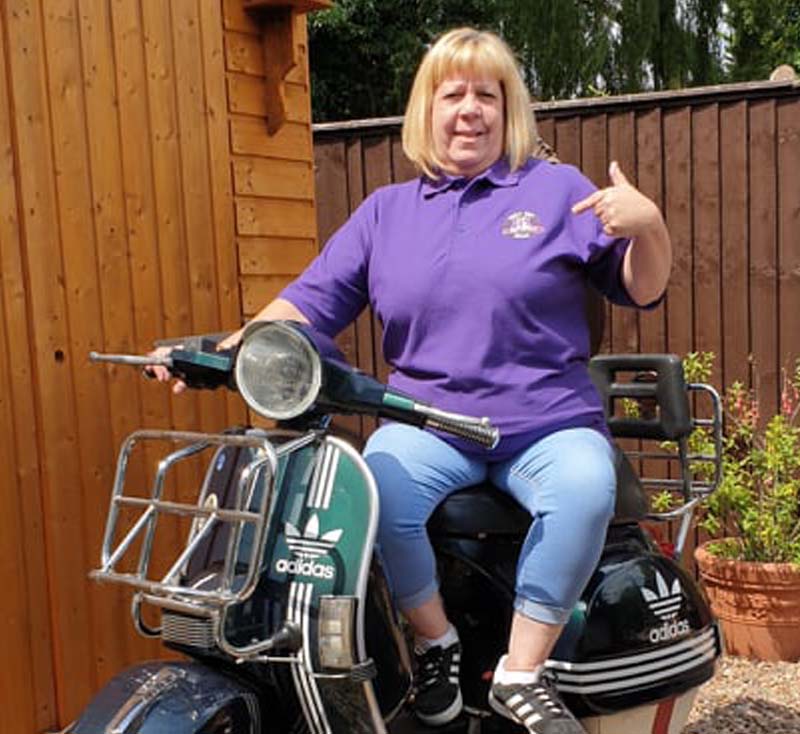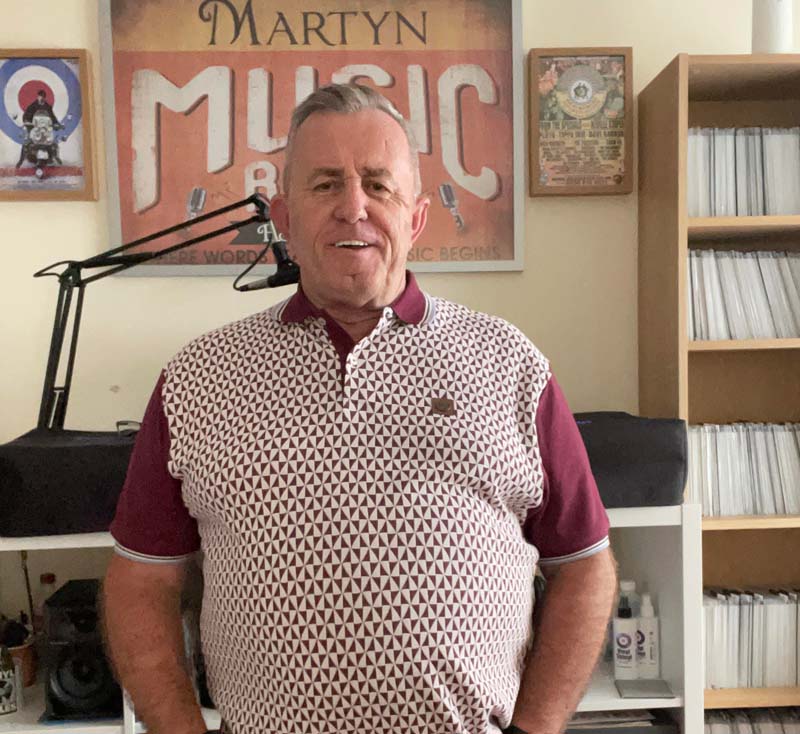 Martyn Parson
Cardiff, UK
The Spin Doctor
I present a midweek ska and reggae show, on a Tuesday evening and a Wednesday afternoon.
I have been involved with the subculture since my early teens in the seventies, and a avid record collector.  It's an honour to be able to do something that I love.
I'm a Northern woman.
Wife. Mother. Nurse. Music lover, DJ and vinyl collector.
Favourite album; Changes frequently.
Favourite single; 'Shazam this one! I want that!'
Favourite quote; I don't hoard records. I just keep them.
Sharon Spencer
Lancashire, UK
Shazzy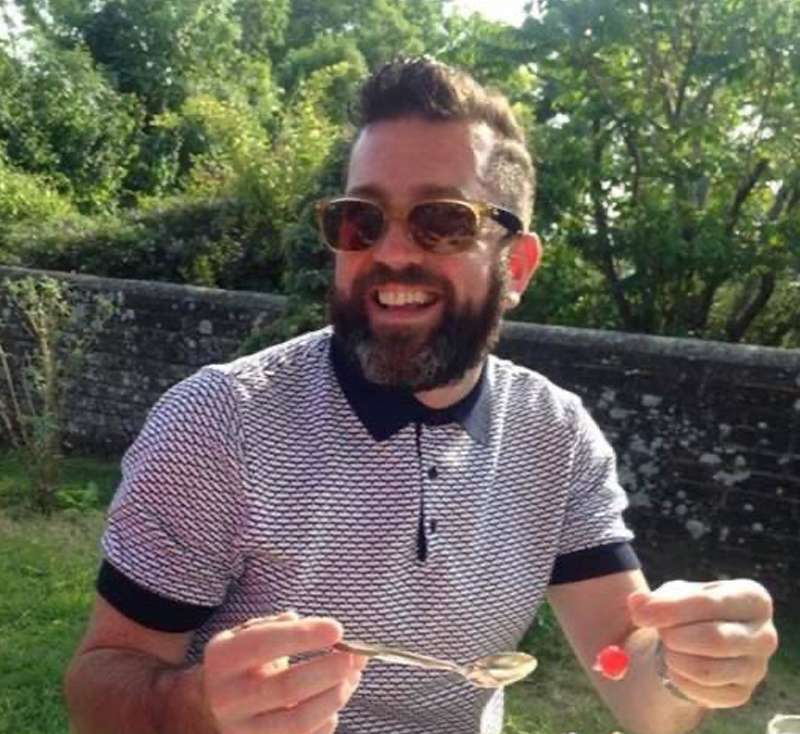 Dean Mitchell
London, UK
Deano DJ
I'm an Full time DJ with over 20 year's experience working in the music industry. I thoroughly enjoy my job and am equally enthusiastic working at smaller functions (birthdays, weddings, bar mitzvahs) as I am at larger corporate & sporting events. My corporate clients have recently included:NFL; BBC; IBM, Floating Festivals, LLoyds of London; Sainsbury's; Eurosport,
But with All this said, My Personal passion and Love is for Reggae Music, given a choice any chance to play.
I'm Roy from NASHSKA, Been in and around the skinhead and ska scene for as long as I can remember, I was about 13 years old. Been djing for around ten years now and love Boss/skinhead reggae aswell as 2 tone and all the aspects of ska. Love the scene and love entertaining people
Roy Nash
Hertfordshire, UK
Nashska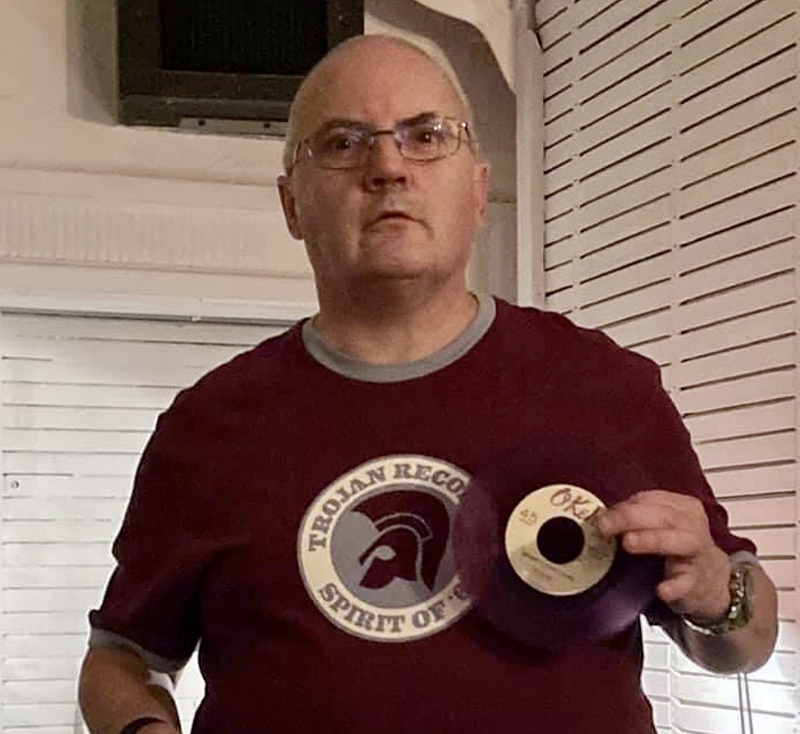 Keiron Woodward
Burnley, UK
The Equaliser
I was born in Burnley ( Lancashire )in 1959 into a large family, hence my wide taste of music. My brother led the skinheads in Burnley around 1969,which gave me the love for ska and reggae.
I developed a love for Northern Soul in the early 70s, and frequented Wigan Casino on several occasions. 
I now run K and D Soul Club in Radcliffe Manchester with my good friend Diane, but my love for Ska, Reggae and Bluebeat has never died.
I have loved all things ska/2tone, reggae and northern soul since I was a child. I have been brought up listening to this genre of music and attended many gigs and scooter rallies over the years which brings me to the present day where I now get the pleasure of playing my favourite music for everyone all over the world.
Tiffany Jade
Doncaster, UK
Takeover Tuesday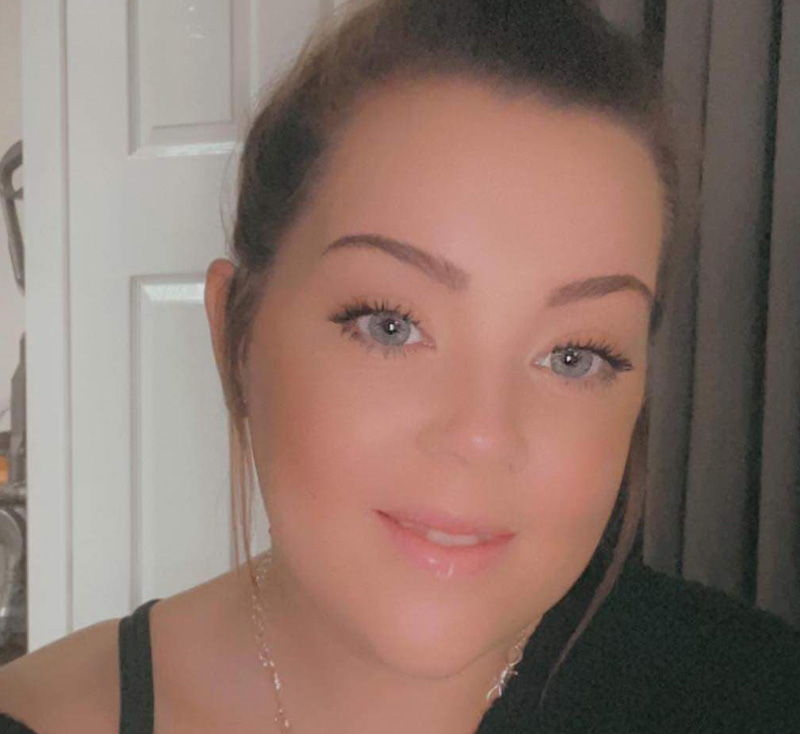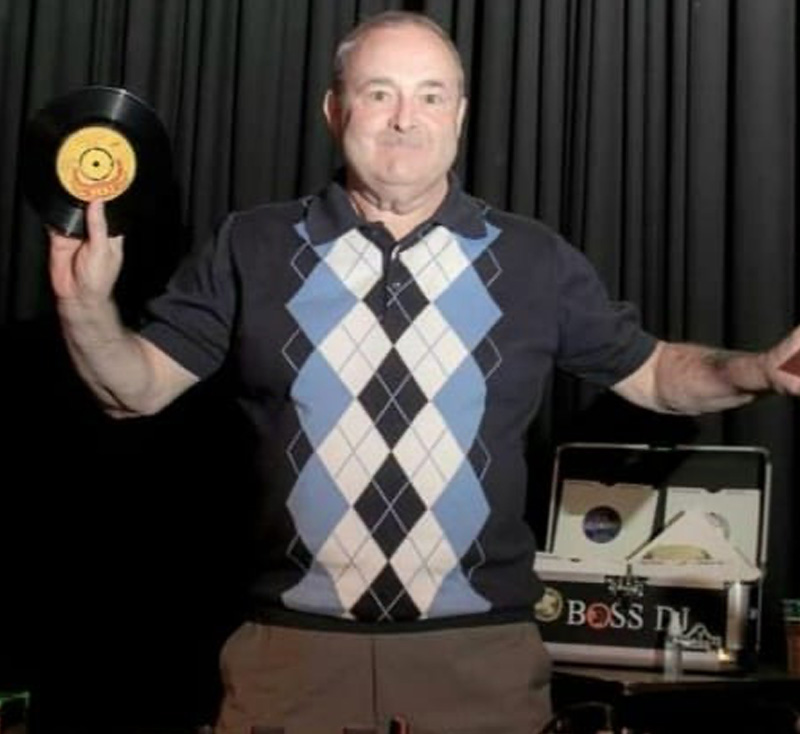 DJ Chris P
Leicester, UK
The Boss DJ Ska & Revival Reggae Show
Full time Wedding, Corporate & Events DJ & Disco.
I began DJ'ing in 1976 centering on ska, Trojan and boss reggae, but also known for funk and soul. Midlands based and resident DJ at Skeggae Reggae, Leic-Ska, and I spread my wings a little further as I always enjoy playing guest slots at various Ska and Reggae events.
My love of original vinyl shines where possible, but will also occasionally lean digitally.
I have been into Northern Soul, 60's R&B and Motown since around the age of 17.
Dj-ing now for around 10yrs mostly Northern Soul, 60's R&B, and Motown, but also Ska and Reggae. I Dj with my wife and go under the name of From Ska 2 Soul.
I love bringing Soul to the Boot Boy Radio party. One of My all time favourite Northern Soul Songs is Duke Browner's Crying over You. My favourite Film is Quadrophenia due to the Scooter Scene and the music.
Poppa Bear
Nottingham, UK
Poppa Bear's Soultrain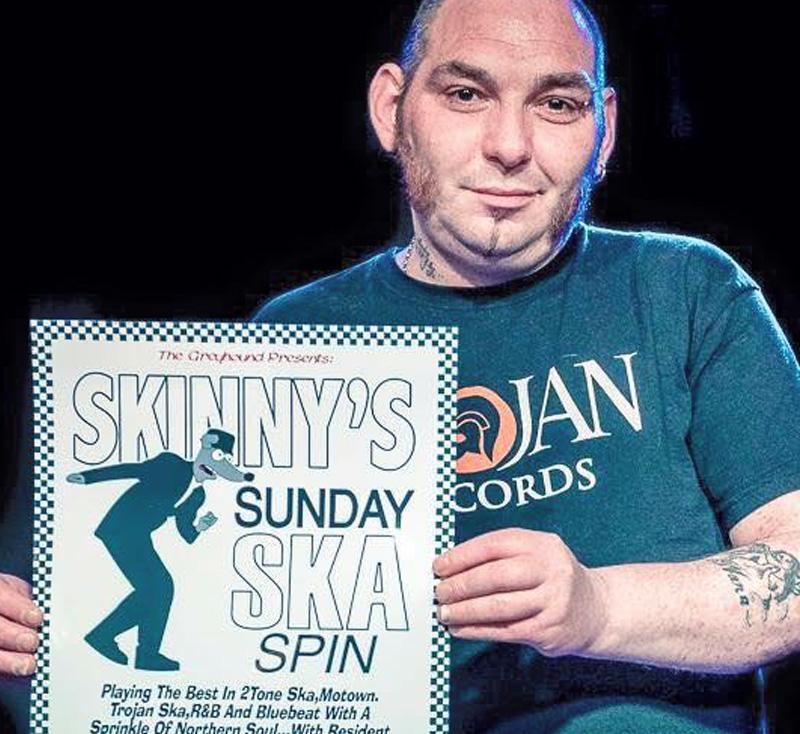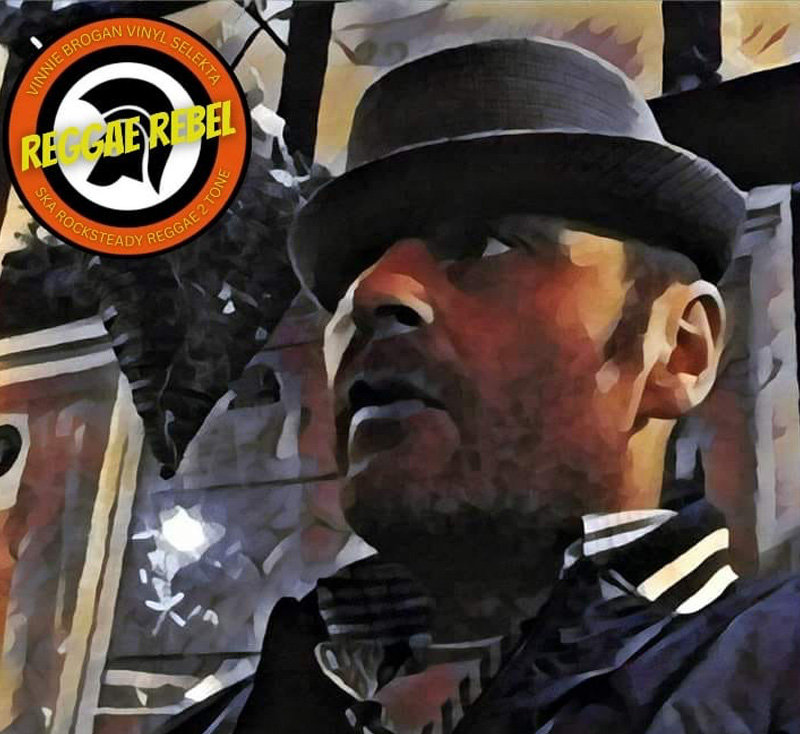 Vinnie Brogan
Norwich, UK
The Friday Night Moonstomp Vinyl Show
From Camden Town in London & Ska'd 4 Life since 1979.
Based just outside Norwich now with a crackly old record collection and a love of all things vinyl related when it comes to SKA, Rocksteady, Reggae & Two Tone.